Journey (Available 3/5/23)'s Web Page
Boxer (short coat) : : Female : : Senior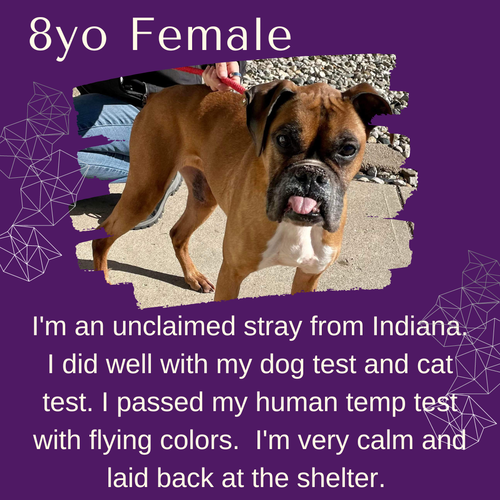 Interested in adopting?
Print an adoption flyer for Journey (Available 3/5/23)!
Have a couch? Put a boxer on it!
About Journey (Available 3/5/23)

Status: Available for Adoption (adoption info)
Adoption Fee: $322.13 (Includes MN Sales Tax)
Species: Dog
General Color: Fawn
Eye Color: Brown
Ear Type: Droopy
Tail Type: Docked
Current Age: 8 Years 1 Month (best estimate)

Fence Required: No
Obedience Training Needed: Has Basic Training
Are you looking for a laid back, sweet, happy, friendly pup? If so, then I am the one for you! Hi, I'm Laila and I an old gal who likes to lounge around and soak up all the love. I get along with all humans, dogs, and cats. My calm and friendly temperament make me a great addition to any loving family!
More about Journey (Available 3/5/23)
Good with Dogs, Good with Cats, Good with Kids, Good with Adults, Quiet, Cratetrained, Obedient, Affectionate, Eager To Please, Gentle
Click one of the boxes below to complete an application:
Currently we do not know if Journey (Available 3/5/23) will be able to attend the event,

Meet & Greet - Chuck & Don's

on Sunday, April 2nd, 2023.