Henry's Updates
(Scroll down to read Henry's Story from the beginning)

A Woo!Woo! from Henry!




11.26.2022
George and his family stopped by to visit Henry yesterday and WOW was Henry happy to see his guardian angels.
He woo'd a few times from excitement and when he yawned. Love when they woo! George says he's super sweet. You can see he's still trying to shake hands.
His front left wrist is still pretty swollen. It sounds like the swelling is coming and going. The incision looks really good though....healed nicely.
He stood up on his own when they first got there. Hard surfaces are difficult for him to stand on. His legs slide. He did get a little help standing up later, but really just by a finger to assist.
George didn't think he is progressing very well in the back right leg. He's still knuckling on that right foot, which you can see in the photos. The tech that was there has no doubt he'd be walking normal again. The back left leg is quite strong. George thinks he'd be fine getting around on three legs. This is good that his other legs are strong so he'll have time for that right leg to recover..... we have to remember the break in the pelvis was big on that side.
He's lost a few pounds! Yay!! He's quite food motivated and will stand for food.


---

Henry's Story
(from the beginning)

We'd like to introduce you to Henry.

He's a 4yo male boxer who was hit by a car in Ohio and left for dead.

The shelter picked him up, and he waited alone for five long days for his family to come get him.

They never came.




A complete stranger saw the shelter's story about Henry online and wanted to help. This good Samaritan, despite knowing they couldn't keep Henry long-term, picked him up from the shelter and took him home and began to arrange medical care, while at the same time starting a search for others who could help find Henry a forever home.

That's where MNBR comes in. One of our members saw Henry's story and connected us, and we stepped in to help secure a foster and ongoing medical attention for this good boy.





Henry's original prognosis was that his injuries were catastrophic. He would need to have one of his legs amputated, plus additional surgeries to address what appeared to be major spine damage as well as damage to two of his other legs and hips.

The situation seemed dire.





But as it turns out, our boy Henry is a fighter!!!

Despite his situation, he was in good spirits and started to show improvements in his legs, so the team decided to move forward with finding a treatment path for him.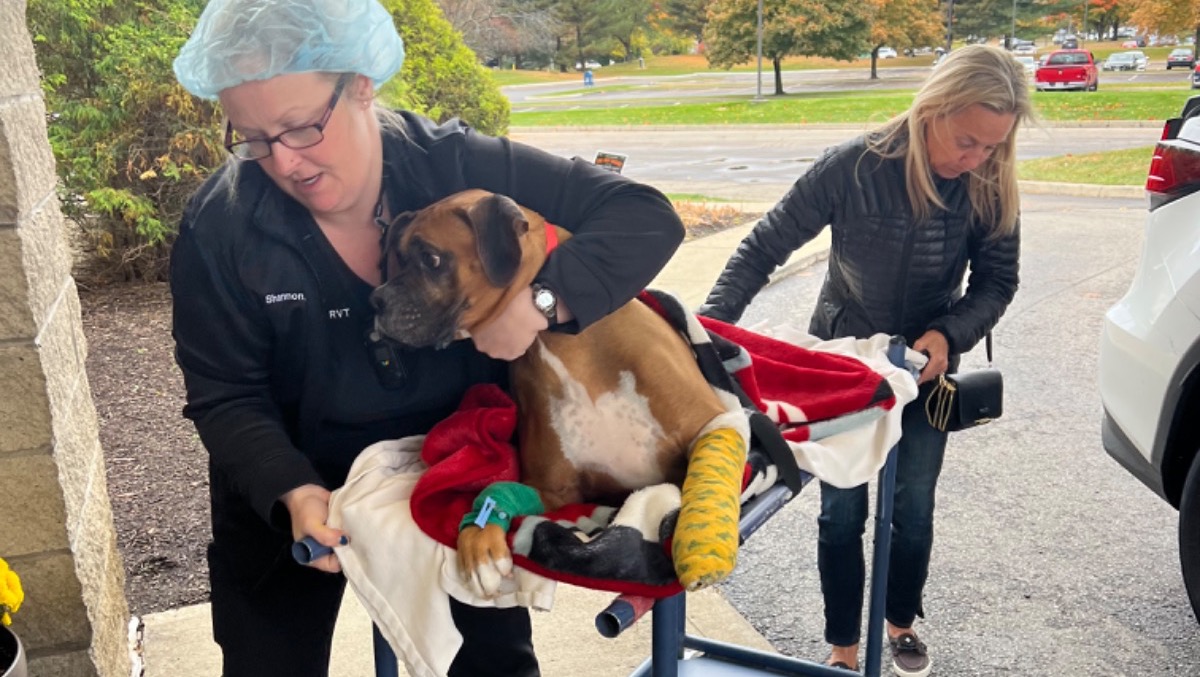 An MRI and assessment revealed that Henry's injuries, while extensive, were operable, and the orthopedic surgeon believed that they could save all Henry's limbs!

However, it would be a grueling path forward. The surgeon determined Henry would need three separate surgeries to repair the damage caused by the car, as well as rehab (that's right - DOG REHAB) after all that repair work.

Now, Henry's prognosis has gone from dire to optimistic! With the right medical care and rehab, the end result would be that Henry would recover and go on to live a full and happy life.
The team decided to move forward, and the first of Henry's surgeries was Sunday, October 23rd, at VCA Westerville/Sawmill (word on the street is they are saints!) and it went great!




Within a few days, Henry was putting weight on the front leg. He still has a ways to go, with surgeries and rehab ahead, but Henry is absolutely crushing it.





As you can probably guess by the fact that Henry has his own orthopedic surgeon, that his medical care won't come cheap. But we believe that Henry is worth the investment, and MNBR has agreed to cover the cost of Henry's medical care, post op care, and finding him a forever home.

The estimate for Henry's surgeries and postop care is coming in at $15,000. The hero who rescued this good boy has already committed $5,000 towards Henry's vet bills, and MNBR is fundraising the rest.

$15,000 sounds like a lot, but we are already nearly 2/3rds of the way there. Henry has an amazing community of supporters, and there is tremendous momentum behind raising the funds to get him back up and dogging like a doggo is meant to do.

Help us get to our goal by making a contribution today!

Click on any of the links below to contribute to Henry's GoFundMe or Facebook Fundraiser to benefit Henry.
All funds raised are tax deductible and will go to cover Henry's medical or postop care.




To those of you that have already contributed - thank you!

The MNBR community has shown time and again that we take care of one another - we are family.
---
11.11.2022 Update
Henry's vet is is pleased with his progress and is overall doing well!

All of his sutures have been removed. He was licking the incision on the front wrist so he's in the cone of shame for a few more days. (Boo. Cone of Shame.)

He's got some swelling, but it looks really good! He did have a small infection in his right hip accompanied by swelling, but that resolved itself thankfully.

The drain on the right hip has also been removed. He can move the right leg. When standing on it he's knuckling, but he's s trying to pull the toes up. Very good sign neurologically!

He started getting a pressure sore on his right elbow (his one good leg). Now that he's moving more that's much better. This wasn't unexpected as he's wanting to lay on that side the most and it's only uninjured leg.

He is starting to walk now!! Woot woit! He started water therapy today. The hope is he'll learn to swing that back leg. His attitude is still very positive. He's such a champ, seriously!
His appetite is still strong too. This boy loves his food.

The vet says he'll be a fan favorite for sure when it comes to finding him a home. Everyone loves him there.
---
11.03.2022 Update
The vet's update today is that Henry is in fantastic spirits! He's loving all the attention, treats....just getting spoiled rotten by everyone. He said Henry has a great personality.
The front wrist is getting more feeling in it. It is swollen, but no drain has been needed. That's good. He tries to stand on the left rear leg. It's not a ton of effort but it's something considering everything.
Up until Monday the right rear leg was very swollen and there was concern it would need to be amputated. Since going to the rehab center on Monday, vet saw him today (Thursday), the swelling has decreased dramatically. There is still a remote chance he could lose it. He wants to lay on that side so they're having to rotate him to the left so he isn't laying on it 24/7. He does knuckle on the toes. He tries to pull it back but not strong enough to flip it back. That's a good sign that neurologically he's doing well.
He cannot stand up on his own yet of course so if he has to poop it's a bit messy. They're cleaning him up which is no biggie.
He is a three person dog right now because of his size and limitations. We discussed putting him on a diet. He will need to be slightly underweight for the remainder of his life to protect his backend.
Henry has not begun water therapy yet as the front wrist needs to be 100% healed due to the rate of infection with that surgery. The vet thinks he'll be at the rehab center until at least Thanksgiving now.

It's becoming clear this dog has stolen everyone hearts. xoxo Henry❤️
---
Water Bath Wednesday!



11.21.2022
Henry's rehap is going great! The vet said his attitude is great and his back end is getting stronger. His front leg is a little more swollen, but he is bearing weight on it. Not sure of a firm transport date yet - were hoping for a 12/1 transport, but will have to see how he does over the next week - might have to delay a little bit to ensure he is stable and strong enough to make the trek to Minnesota and find his forever home.